Ahwatukee Park Rental Information
With our open grass fields, playground, and shaded picnic tables, our park is the perfect place to hold your next gathering or event! Along with the private use of the Ramada area, you also have the option to add our baseball field to your occasion for an additional fee. There is a two-hour minimum for each Ramada.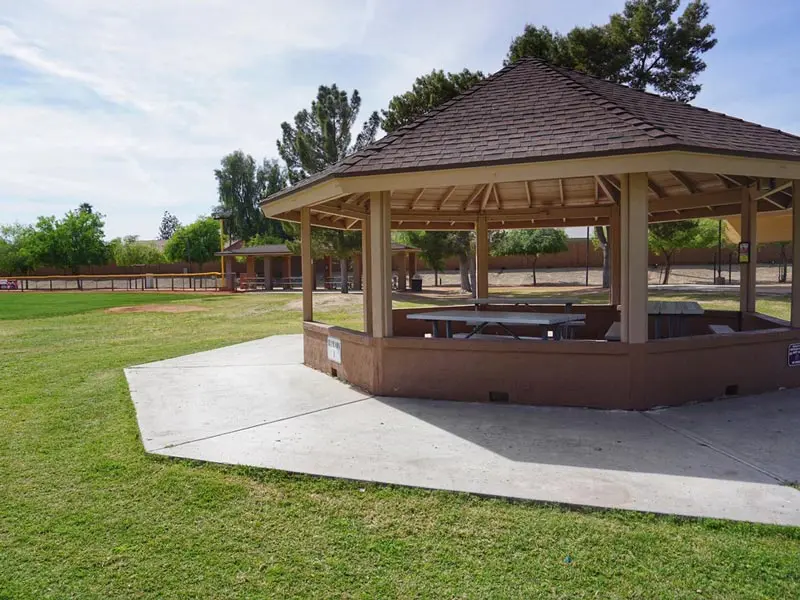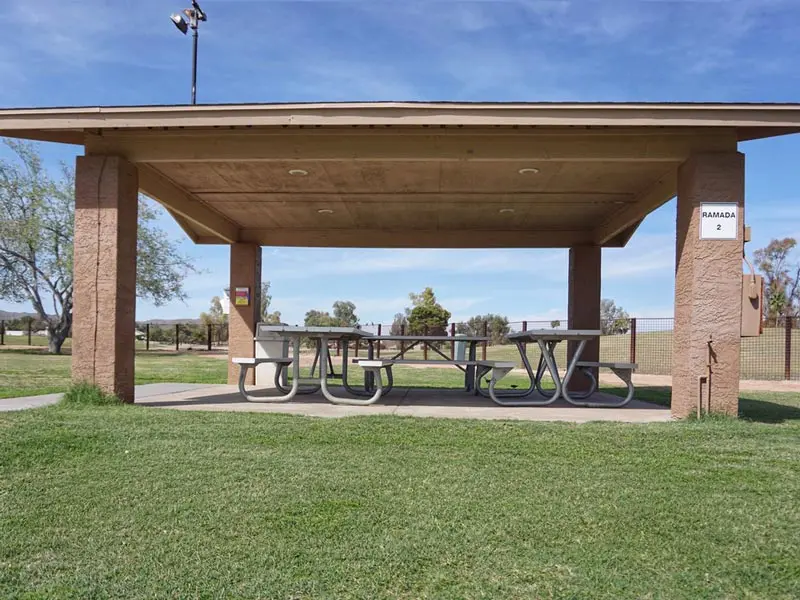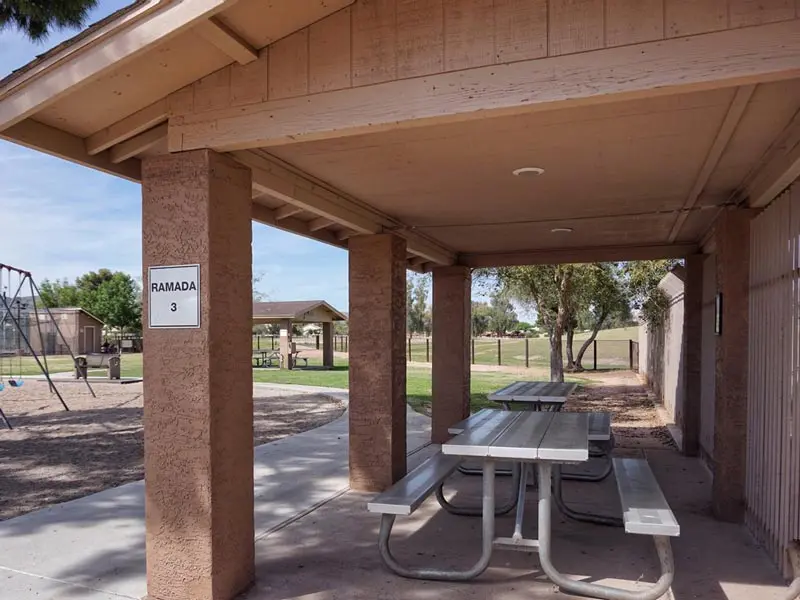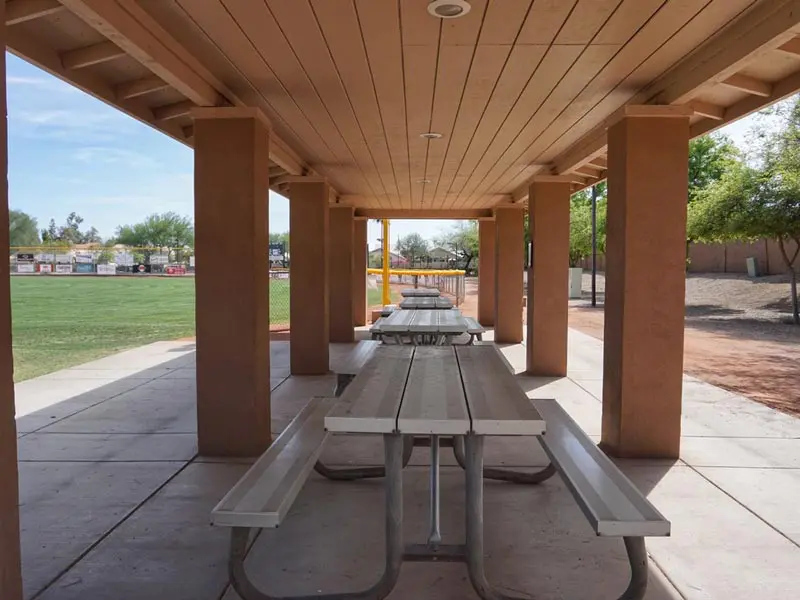 Making Reservations

Office location, hours, phone number
Payment due date & payment options
Cancellations/Refunds
HOA Resident/Non-Resident

Park Information

General Rules & Regulations
Pet Requirements
Baseball Field Rules & Regulations
Inflatables
Special Events
Certificate of Insurance Requirements
Business Use

Park Rental Rates

Ramada 1 – 4
Baseball Field
Basketball Court
Additional Fees
Making Reservations
To make a reservation, call the Ahwatukee Community Swim, Tennis & Event Center office or come by during office hours and:
Check availability of reservation date.
The size of the group and the activities that are planned determines how many Ramada's will need to be reserved
The hours of park availability are from dawn to dusk 7 days a week (some exclusions apply).
Review the park rules and regulations
Complete contract either in person, by email or fax. If by email, a staff member will call to collect payment after it is received.
All reservations are posted at the rented area.
Reservations enable staff to inform the public that specific areas of the park are already booked. The park will remain open to the public
A. Office Location, Hours, Phone Number
Office hours are Monday – Friday 8 am – 4 pm and Saturday 8 am – 1 pm.
We are located at 4700 E. Warner Rd., Phoenix, AZ 85044.
Office phone number is 480-893-3431 and fax number is 480-893-6634.
B. Payment Due Date and Payment Options
Payment is due the date you sign the Park Reservation Contract.
We accept Visa, Mastercard, Discover, cash or check.
C. Cancellations & Refunds
To receive a refund for a ramada rental, all cancellations must be made at least one (1)business day prior to the reservation by calling our office number at (480) 893-3431.
No refunds will be issued after the reservation date.
D. HOA Resident/Non-Resident
The park is an amenity for residents in the Ahwatukee Board of Management Homeowners Association. Slightly higher fees are charged to Non-Residents.
ABM residents reside within these boundaries: South side of Elliot Road, North side of Knox Road, I-10 to the East & West to South Mountain

Park Information
A. General Rules and Regulations
All Ahwatukee Board of Management residents with no outstanding financial obligations may rent the Ahwatukee Park when available on a first come first serve basis.
Rental to non-residents is also permitted but an additional rental fee will apply.
Park Rentals are between the hours of dawn and dusk.
Lessee's and their guests will always conduct themselves in a responsible and proper manner.
The Ahwatukee Community Swim, Tennis & Event Center reserve the right to prohibit language, clothing, material or other items we deem inappropriate at a family-oriented facility.
Driving of motor vehicles on park property is strictly prohibited.
Lessee is responsible for removal of all trash.
Lessee must be on-site for the duration of the contract.
Lessee will leave the areas rented in a clean and neat condition. Ramada's may be decorated (using tape only, no nails or staples), but decorations and tape must be removed by the Lessee.
An alcohol permit, obtained through the Ahwatukee Swim, Tennis and Event Center, is required for consumption of beer or wine in the park. No selling of alcohol is allowed.
Glass containers of any kind are prohibited in the park
Sidewalks may not be blocked at any time.
Music must be kept at a reasonable level to avoid disturbance to other park users and nearby residents.
Common areas in the park are the playground, basketball court and batting cage.
B. Pet Requirements
Dog/s must always be on a leash.
Must clean up after dog/s and dispose of waste properly.
Pet owners must adhere to all postings at park when pets are prohibited. Some special events hosted by the Community Center will not allow pets of any kind during the duration of the event.
C. Baseball Field Rules and Regulations
Ahwatukee Park Baseball Field is owned and operated by the Ahwatukee Board of Management Homeowners Association. The field and park are an amenity for ABM homeowners.
The baseball field is not available:
During Farmers Market hours (7 am – 2 pm) every Sunday.
During the 2-week over-seeding period at the beginning of October.
During any Special Event (Annual Chili Cook-off, Dog Show, TukeeFest, etc.)
It is also up to Management's discretion to block any dates not suitable for field use.
Use of the field during these times is strictly prohibited. Non-compliance can lead to forfeiting future reservations.
Field use is limited to 2 hours.
Field reservations are non-refundable.
In the event of inclement weather, a credit can be issued if re-booked within 24 hours following the reservation to receive the credit.
In case of inclement weather or poor field conditions, Management will make the final decision if the field may be utilized.
Climbing on or over fences is prohibited.
"Soft Toss" against the fence is prohibited.
Hitting against the fence is not allowed.
Unsportsmanlike conduct, fighting, foul language will not be allowed.
Use established base distance only.
All changes to weekend reservations need to be made by 6:00 pm the Thursday prior to the reservation.Misrepresentation by a club team by referring their team as a "little league team" can lead to forfeiting future use of the field.
Only age 12 and under baseball teams can practice on the baseball field.
Club teams may conduct practice one day per week from August through December (see the non-available times listed above) with a maximum of 10 practices.
Any organized team having an unauthorized practice is prohibited. Failure to reserve a field will forfeit future field reservations for that organization.
D. Inflatables
Use and location of inflatables must have prior approval.
Additional fees apply.
You may choose any company for services or choose from our preferred vendor list.
A Certificate of Insurance from the Company used for the inflatables is required at least 5 days prior to reservation. If choosing a company from our preferred vendor list, their Certificate of Insurance is already of file in our office.
The Certificate of Insurance can be scanned and emailed to us at info@ahwatukeecommunitycenter.comor faxed at 480-893-6634.
Inflatables must be secure. The use of sandbags is preferable. Do not use stakes unless approved through Management. Stakes must be placed carefully as to not damage any irrigation or electrical lines.
All guests must follow the rules and guidelines of the equipment owner and manufacturer for safety.
Lessee must supervise the use of the play equipment to safeguard participants and spectators. Only invited guests may use the equipment.
E. Special Events 
Rental of the park for public or private special events such as, but not limited to:
o Cornhole Tournament

o Charity Events

o Carnivals

o Concerts

o Fundraisers

o Dog Competitions

o Sports Tournaments
will no longer be available. This is due in part to limited parking available, calendar availability, City and County permit restrictions, and to protect the rights of individual park users as well as the park itself.
There are many city parks available to hold large gatherings and host special events. Please visit https://www.phoenix.gov/parks/parks/party for additional information.
F. Business Use
No person shall organize, conduct, or participate in any event or other scheduled activity that is publicly advertised without prior authorization. Business activities are defined to include camps, classes, exercise classes, sale of merchandise or services, personal sports coach, dog obedience classes or other programmed activities under the organization, direction or supervision of an individual or organization.
For a business to operate on Ahwatukee Park property, a business must request permission from Management. Please follow the steps below to get started.
A business may operate at Ahwatukee Park under the following scenarios:
The business operation is approved through a lease agreement.
A business has reserved the park to provide a one-time service or activity to invited guests.
The business wishes to operate a scheduled or programmed activity to invited guests (recreation program, camp, fitness, instructional class).
Requests for park use, whether commercial, not-for-profit or private will be based on the following criteria:
The proposed activity doesn't conflict with other public park uses, impede care and maintenance of the park, detract from general park visitor use or enjoyment or directly compete with a HOA operated or contracted program.
The activity is being provided to invited guests only.
Park rules, regulations and processes have been abided to in the past.
There are no outstanding fees or charges.
Complete and submit the Park Use Request Form
Fees are determined by space needed to conduct the activity.
General Liability Insurance is required when an individual, group, organization, or business conducts an event or programs. Below is a general guideline and not an exhaustive list of events needing insurance:
Open to the public (e.g. spectators)
Use of vendors or contractors, third-party equipment for private and public uses
Organized programs, leagues, events – sports/athletic
Inflatables
Bleachers, stage, platform, arch
Vehicle, motorized devices
Portable lights, light towers
Filming for commercial purposes
G. Certificate of Insurance Information
Coverage Type and Limits Required:
Commercial General Liability Insurance
In the amount of $1 million ($1,000,000) each occurrence combined single limit for bodily injury and property damage liabilities
$2 million ($2,000,000) aggregate
Ahwatukee Board of Management Homeowners Association named as "Additional Insured".
Address on policy:
Ahwatukee Board of Management
4700 E. Warner Rd.
Phoenix, AZ 85044
Must include the following on the certificate:
Insured: Must list the name of the League/Organization
League/Organization Contact name(s). League/Organization contact name(s) on the insurance certificate and/or file with the producer of the policy must match the name listed as the contact for the league/organization reservation request.
Address
The specific date(s) and location(s) of the event/program must be clearly stated on the certificate for one-time events.
Permit Number
Submit your Certificate of Insurance

An original certificate of insurance certifying coverage must be mailed, hand delivered, email, or faxed.
I, _________________________ indemnify and hold harmless the Ahwatukee Community Swim & Tennis Center/Ahwatukee Board of Management Homeowners' Association and any of its agents from any claim, liabilities or losses suffered by anyone wholly or partially responsible as a result of my conduct and negligence. I accept full responsibility for the conduct of myself, and guests (adults as well as minors). I have read, fully understand and agree to abide by the entire rental Rules and Regulations. Failure to adhere to or enforce the Rules & Regulations will result in partial or full forfeiture of the Security Deposit. By signing this contract, I attest that I am servicing this facility for my own personal use as an extension of my home and as part of the Ahwatukee Board of Management Homeowners' Association.
Event Host

Signature: __________________________

Print: _______________________________

Date: ______________________________

Ahwatukee Community Center

Signature: __________________________

Print: _______________________________

Date: ______________________________

Alternate Contact

Name: ____________________________

Phone Number: ____________________
Park Rental Information and Rates
Ramadas are equipped with electricity, picnic tables, nearby playground & bathrooms. Picnic tables are included with your ramada rental but cannot guarantee their replacement at specific ramadas, due to mobility of this equipment.

​​Baseball Field $25 resident / $35 non-resident
​Alcohol Permit ​$25
If you are interested in renting an area in our park, please fill out the inquiry below and a staff member will contact you shortly.
"*" indicates required fields