$242.50 per camper (May 30-June 2: $194 per camper), 10% discount to add a sibling
This camp provides a variety of STEM (Science, Technology, Engineering, Math) activities that spark imagination, creativity, and learning in a fun and relaxed environment.
To encourage a healthy lifestyle, kids will also participate each day in sports and swim.
The camp is designed for children between 6 – 12 yrs old.
Campers will bring their own lunch, but snacks, juice, and drinks are available for purchase at the Center. However, an afternoon snack and drink is provided daily by the Center as well.
Camp swimming is designed as a fun, recreational time for kids to enjoy our great pool. Lifeguards will be on duty.​​
Cancellation policy: If a participant cannot participate in the STEM & Sports Camp he/she is registered for, a refund will be given if notice is given at least one week prior to the first day. A $50 cancellation fee will be applied if a cancellation is made less than one week prior to camp. No refunds will be issued after camp begins.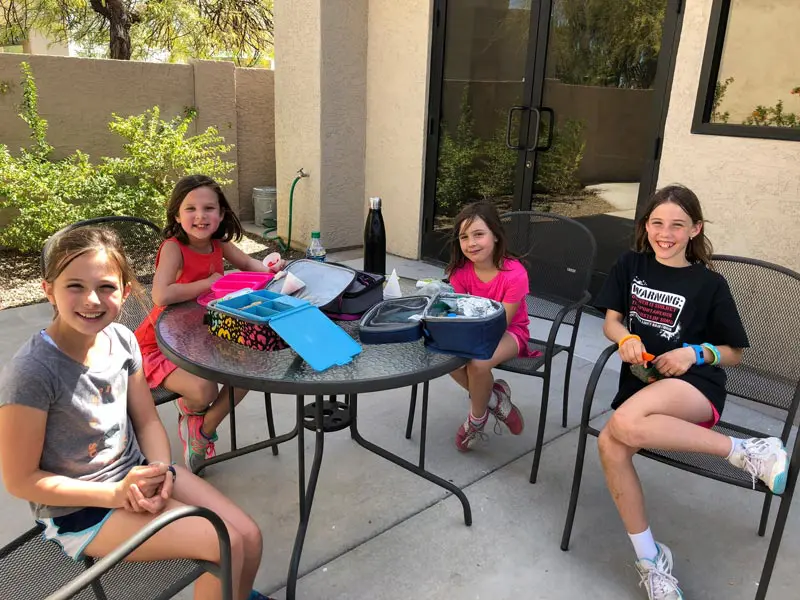 8:00 - 8:30 am Drop off
8:30 - 9:30 am STEM Session
9:30 - 10:30 am Sport Instruction
10:30 - 11:30 am STEM Session
11:30 - 12:15 pm Lunch/Games
12:15 - 1:00 pm STEM Session
1:00 - 2:00 pm Swimming
2:00 - 3:30 pm STEM Session
Week 1: May 22 – May 26
Week 2: May 30 – June 2 (4 days – prorated)
Week 3: June 5 – June 9
Week 4: June 12 – June 16
Week 5: June 19 – June 23
Week 6: June 26 – June 30
Week 7: July 10 – July 14
Week 8: October 2 - October 6
Cancellations may be made up to one week prior to the first day of camp. There is a $50 cancellation fee if a cancellation is made less than one week prior to camp. No refunds after camp begins.
*Preregistration is required.
WEEK 1: FORCES OF NATURE
Weather can be wacky! Become an expert on the forces of nature. Campers will learn about the forces of nature and how they change Earth's environment. They will create volcanoes, build a tornado in a bottle, make a seismograph, and learn about the electricity spark of lightning.
WEEK 2: DINOZONE
It's a full week of prehistoric activities. The world of dinosaurs will come to life through fossil hunts, mock digs, and engaging hands-on activities. We will explore the lives of dinosaurs and other prehistoric animals and the evidence that scientists use to learn about these ancient creatures.
WEEK 3: GALAXY EXPLORATION/ASU STAR LAB
Starlab is an inflatable, portable planetarium from the School of Earth and Space Exploration at Arizona State University. The stars will come alive in this unforgettable dome!
WEEK 4: iROBOT
Calling all engineers! Interested in coding or building robots? Come create recycled and task driven robots. Learn about the difference between robots and machines through hands on activities. Experiment with both the physical and digital world by programming ozobots. The guest speaker this week is from Arizona State University's CUBIC.
WEEK 5: THE DEEP SEA
Deep-sea exploration is the investigation of physical, chemical and biological conditions on the seabed.  It is considered a relatively recent human activity compared to the other areas of geophysical research, as the depths of the sea have been investigated only during comparatively recent years.  The ocean depths remain a largely unexplored part of the planet and form a relatively undiscovered domain.
WEEK 6: DESTINATION IMAGINATION
This week's focus is on creativity and problem solving. Campers will participate in drama, art, and improv. They will solve tasks and perform experiments such as an egg drop or marshmallow/toothpick structure activity. They will perform skits and plays. They will create a model of an invention that can solve an everyday problem. Campers will use their imagination to create, build, and solve.
WEEK 7:

 

SPACE WEEK
Starlab is an inflatable, portable planetarium from the School of Earth and Space Exploration at Arizona State University. They will learn about phases, eclipses, and features on the moon's surface. When exploring the earth, campers will learn about weather patterns, ocean currents, time zones, and current events.
WEEK 8:

 

X-TREME SCIENCE
Ever wonder about the world's biggest and best of science? Campers will learn about the biggest waves, animals, glaciers, and mountain ranges of the past and present. They will explore what makes the biggest predators so lethal.